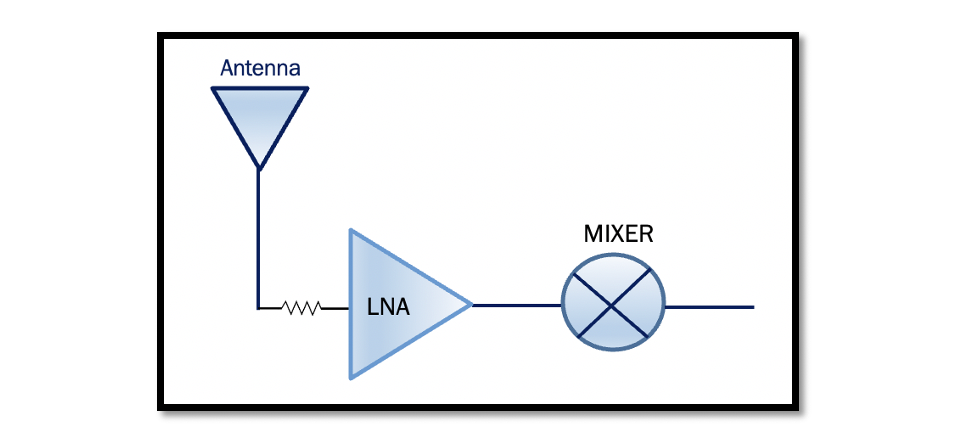 How to calculate Noise Figure and Noise Floor (Example Questions – Part 1)
Example 1:
Calculate the following for the below given RF circuit:
Total Noise Figure (NF) of the system

Input noise floor (Bandwidth = 5 MHz)

Total PIIP3

Important points to remember:
As you can see from the given inputs, the mixer's noise figure is higher than LNA's. In cascaded stages, the noise of the first stage is dominant and more important than the noise of the subsequent stages. The noise of other states is divided by the gain of LNA. Hence there has to be some reasonable gain for LNA and a minimum noise figure.
In the case of linearity, the compression point of the mixer is much higher than the compression point of LNA, which means that linearity is important as we proceed to the last stage.
It can be said that the linearity is the opposite of the noise figure. In the noise figure, we have to be careful about the first stage, whereas, in linearity, the last stage is important.
a) Finding the Total Noise Figure (NF) of the system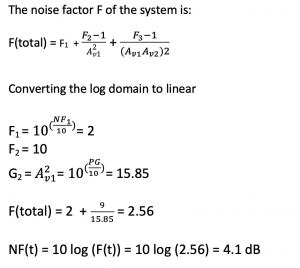 Understanding the trade-off between Noise Figure and Linearity
As we can see from the equation that increasing the gain of LNA can decrease the noise figure. Increasing the gain, we can completely get rid of the noise contribution of the mixer. However, this is not possible. Gain of LNA cannot be increased beyond a certain point. Doing so, we would have two issues, the first one is a stability issue, and the second is linearity.
Increase the gain of LNA means increasing the signal level at the input of the mixer. Increasing beyond the limit of LNA can cause linearity issues because we have a compression point. At some point, the mixer is going to start to compress the signal. It is important to remember that to make my noise figure perfect, increase the gain of LNA but increasing the gain of LNA is going to degrade the stability, therefore it is a very important concept to understand the trade-off between noise figures and linearity.
b) Input noise floor (Bandwidth = 5 MHz)

c) Total PIIP3
For calculating the total IIP3, we need the IP3 of each block, but unfortunately, we don't have that information, however, we do have the 1dB compression point for both the blocks. Using the expressions shown below, the IIP3 can be calculated for both LNA and Mixer.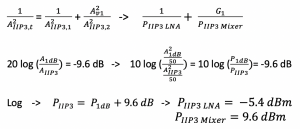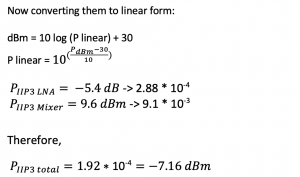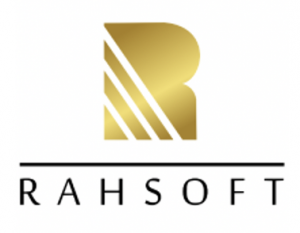 Watch the course videos for more detailed understanding. Also checkout other courses on RF system and IC design on https://rahsoft.com/courses/
Rahsoft also provides a certificate on Radio Frequency. All the courses offer step by step approach.