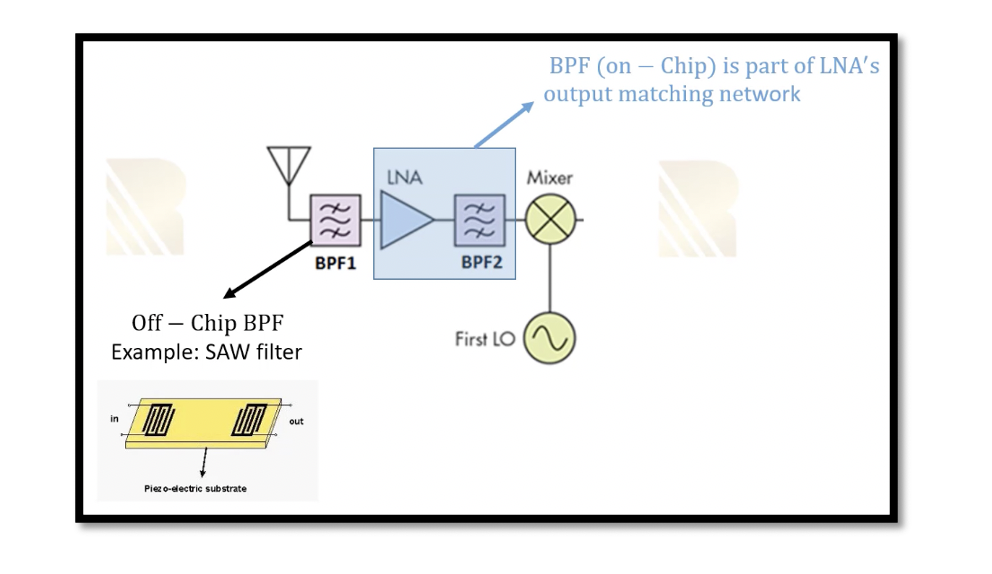 Advantages and Disadvantages of Dual Conversion Receivers
Posted by

Date

August 26, 2021

Comments

0 comment
Advantage and disadvantage of Dual Conversion
In modern day receivers we don't have the structures where we have lot of off-chip filters as it becomes hard to design and takes big area. To connect the LNA to mixer the bandpass filter have to put between them. Further as it is off chip filter there has to be a matching circuit between LNA and mixer. The dual conversion uses two local oscillators in the circuit, the circuit can act as power hungry due to extra matching required. Hence, modern receivers tends to avoid this kind of structure for receivers.
Advantages are this structure is robust and it is a clear choice for extremely high sensitivity radios. If the filters used are off-chip SAW filters and have good selectivity. Using SAW filters reduce the burden on active circuits and attenuates interferers as they have sharp Q. It is easier to design active circuitry. In active circuits we don't have to design a very sharp filter in IF part. We know that we can't make active filter in RF part because high Q cannot be attended by designing a filter hence, passive elements are used not active circuits. This shows that if we have good off-chip filters we will have really good selectivity and we won't have problem in IF. Power consumption of this circuit is kind of lower however, generally the use of this structure in modern day is not preferred.
Secondary Image in Dual Conversion
As discussed in previous section 'image problem in a heterodyne receiver' that the image problem is considered as one of the major drawbacks or problems with the heterodyne receiver. As shown in the below figure the image signal is Wim which is at an equal distance from WLO1 as Win.
The signals within the system finally reaches WIF, the first step after the mixer and filter. The secondary image appears as shown in the figure, when WLO2<WIF. The difference between the secondary image frequency and WLO2 is equal to WIF. So now there is secondary image problem, and this is very important because another filter has to be installed which could be a problem. This is one of the major problems of using the dual conversion receiver.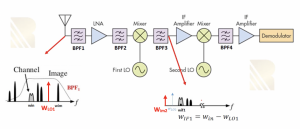 Where is the secondary image coming from?
The dual receiver captures the secondary image. WIM2 is in IF frequency. Note that if the secondary image would have appeared in BPF1 then it would have been attenuated due to its low frequency. However, its not the case. This secondary image is actually the result of a combination of different frequencies due to the non-linearity of LNA, mixer and even local oscillator. It is possible that we will have second image secondary image in the receiver and can cause a real problem as this image will be translated to IF2 that will block our signal.
Modern Heterodyne Receiver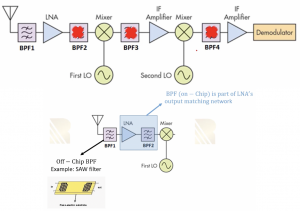 In modern day receivers all the off-chip filters are removed except the front-end bandpass filter. So these removed filters are actually not removed, they are now the on-chip filters which are part of building blocks like LNA. Since, these LNAs are tuned to work in desired frequency band, there is input and output matching circuits in the LNA block which kind of acts like a bandpass filter.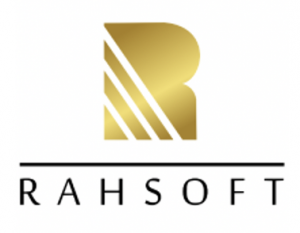 Watch the course videos for more detailed understanding. Also checkout other courses on RF system and IC design on https://rahsoft.com/courses/.
Rahsoft also provides a certificate on Radio Frequency. All the courses offer step by step approach.